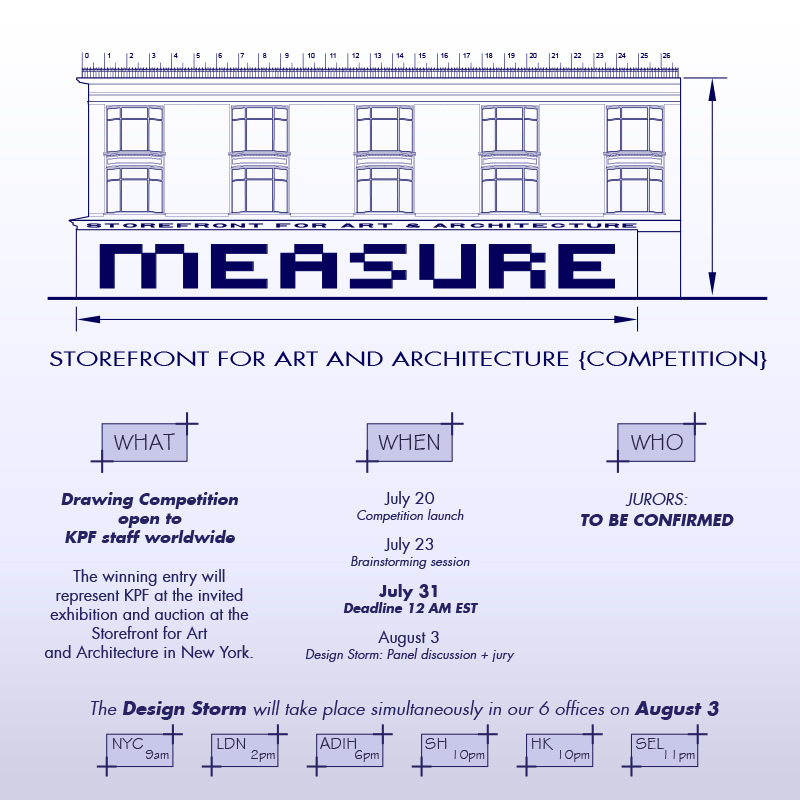 MEASURE will present 30 drawings of Storefront for Art and Architecture's gallery space in 97 Kenmare by 30 international architects presenting 30 edifices of thought.
This DesignCloud will serve as the competition platform by which one winner will be selected for KPF. The winning entry will be exhibited at the Storefront.
While architecture representation conforms to a system of standards and guidelines that allow architecture to produce buildings, architecture is also the practice of giving form to thought. In the process of producing these edifices that house social, political and spatial relations, architects make visible the functioning of society in its operational and aspirational terms, constantly innovating new forms of measurement and representation.
To measure, to quantify the physical and intangible dimensions of a place is to articulate facts in order to construct values. The process of creating standards and guidelines of representation allows innovation to enter the realm of the establishment. What can be measured can be capitalized, historicized, and sold.
The pleasure and pressure to measure and be measured has become increasingly present. The access to growing data sets, new sensing technologies together with the redefinition of public and private domains in terms of information and space, invites us to reflect on the ideologies and values that each one of us are able and desiring to count, measure and draw.
Each drawing should be of Storefront's gallery space at 97 Kenmare. This might include a plan, a section, an elevation, or any other representational method you consider relevant to represent/generate Storefront. Each drawing should fit within an 18 x 24 inches black frame, landscape format.
Drawings and a 3D model of the Storefront Gallery space can be downloaded HERE